Bradley L. Clark
Experienced Fort Worth Criminal Defense Attorney
Born and raised in Fort Worth, when I was young, I got tired of getting kicked around by those that I had some advantage over me. I decided that I wanted to do something where I can serve the underdog. Law degree from Baylor University, an institution well recognized for Trial Advocacy. Everyone I choose to represent is a person before they are a client. It is important when preparing a defense that I understand the individual and the influences in their lives that may have contributed to their particular conduct.
As a former prosecutor, I have a unique perspective of the judicial system. I have spent more than 25 years cultivating and growing my reputation in the courthouse as a tireless advocate and a man of my word. I am able to employ time-tested strategies and an in-depth knowledge of the law to your case after an arrest, accusation, or when you are under investigation for a crime in Tarrant County. This dedication has given The Clark Law Firm a solid reputation for success in the courtroom, as well as our integrity, professionalism, and aggressive representation that keeps your needs and best interests at the forefront of everything we do.
My job is to give my clients an opportunity to continue with their life without the permanent consequences of alleged criminal conduct. I strenuously believe in client satisfaction and have helped hundreds of people achieve full acquittal, dismissal, or reduction of criminal charges in a number of complex charges. My commitment can help you fight your case.
Call Fort Worth criminal defense attorney Bradley L. Clark at (817) 435-4970 or schedule your free initial consultation online today.
Areas of Practice:
Litigation Percentage:
100% of Practice Devoted to Litigation
Education:
Baylor University School of Law, Waco, Texas
University of Texas at Arlington, Arlington, Texas
Past Employment Positions:
Tarrant County Criminal District Attorney, Assistant Criminal District Attorney, 1992 - 1999
Managing Partner of Clark Law Firm - 1999 to present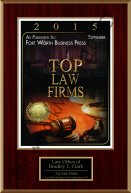 Classes/Seminars:
Collateral Consequences of Criminal Convictions, Texas A&M School of Law
Bar Admissions:
Professional Associations and Memberships:
Tarrant County Bar Association, 1991 - Present
Tarrant County Criminal Defense Lawyers Association, 1991 - Present
DUI Defense Lawyers Association
Texas Bar Foundation (Top 1/3 of 1% of all Texas Attorneys)
Texas Criminal Defense Lawyers Association
Tarrant County Bar Association Criminal Section, Chair 2013 - Present
Bio
Education
Employment
Awards
Speaking Engagements
Professional Associations
Case Results