Texas Grand Jury Proceedings
Skilled & Aggressive Fort Worth Criminal Defense Attorneys
After you have been accused or arrested for a felony, charges are not filed against you right away. First, a grand jury must meet to look over your case and determine if the evidence indicates that you should be indicted or not.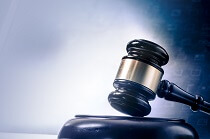 During the grand jury proceedings, they are expected to thoroughly examine all evidence before a decision is made. Essentially, the decision is placed in the grand jury's hands and you are hoping that they have all of the necessary circumstances, facts, and evidence.
Contact The Clark Law Firm today to get started on your complimentary consultation.
Received Notice? Hire Representation Immediately!
At The Clark Law Firm, our Fort Worth criminal defense attorneys have 35 years of combined experience defending criminal cases, including handling grand jury proceedings. You should always have proper representation on your side when you are facing a grand jury.
We have a former prosecutor on our team who is prepared for virtually any situation which can arise during grand jury proceedings. The Clark Law Firm is known for advocating aggressively for our clients and for our past successes in felony cases. We understand the severity of the charges against you and are committed to coming up with a defense strategy which is tailored to your specific situation.
There are many steps we can take on your behalf during a grand jury, including:
Undergoing extensive research to gather statements and evidence
Investigating and calling witnesses to testify for you
Gathering and providing valuable evidence on your behalf
Securing affidavits and preparing necessary documents
Grand Jury vs. Trial Jury
A grand jury consists of 23 three individual jurors, who help the prosecutor determine whether to file charges against a suspect in a criminal offense. Prosecutors use grand jury proceedings as a test-run for trials and value the grand jury's judgment toward the evidence.
The jurors can view as much evidence as they please—even more than permissible at a criminal trial. Two-thirds or three-quarters of the grand jury must agree in order to indict a suspect.
The parties scheduled to appear before a grand jury do not have lawyers. However, since these proceedings are confidential, witnesses are encouraged to speak freely.
On the other hand, the trial jury consists of six to twelve jurors, who must decide if a defendant is innocent or guilty. Each party at trial generally has legal representation. Evidence presented at trial is carefully chosen by each party's lawyer and is subject to several rules to ensure reliability.
Do I Get Immunity?
If you become a target of a grand jury, you need to hire a criminal defense attorney to arrange a deal to testify before the grand jury in exchange for immunity from the prosecutor based on the Fifth Amendment. Prosecutors typically award immunity to encourage lesser criminals to testify against bigger criminals (e.g. a drug dealer testifies against a drug lord.)
The prosecution can offer one of the following forms of immunity:
Transitional immunity – This type of immunity protects a person from being prosecuted for any crimes related to the topic of the testimony.
Use immunity – This type of immunity protects a person's testimony from being used in future prosecution. However, the witness may be prosecuted in a future in relation to the topic of the testimony.
Contact Us for a complimentary Consultation
Do you have any questions about your upcoming legal proceedings or the charges you are facing? We would be happy to meet with you for a complimentary initial appointment to discuss your case. Our top priority is to advocate for you and provide the personalized and aggressive legal care you deserve.
Contact us today at (817) 435-4970 to request information about our no-interest payment plans.