Fort Worth Expungement Lawyer
Discuss Non-Disclosure With Our Skilled Defense Attorney Today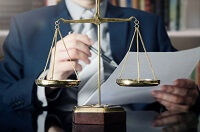 Are your criminal records getting in the way of obtaining employment, furthering your education, or affecting your personal reputation? You may want to consider pursuing the expunction process with the help of a Fort Worth criminal defense attorney.
As our client, you can expect the following:
Individual attention
complimentary consultations
Affordable, no-interest payment plans
Innovative legal solutions
There are many myths and misconceptions about the process of clearing or closing your criminal record. Our firm is here to guide you through the process of expunction, and at The Clark Law Firm, we are dedicated to ensuring that you know all of your legal options.
Looking to expunge your criminal record? We're ready to hear from you. To learn how we can help, call (817) 435-4970 today!
Benefits of Expunging Your Criminal Record
In Texas, there are certain circumstances which must be met to obtain expunction.
You may be eligible for expunction in Texas if:
If you were arrested by not charged
Your charge was dismissed
Your offense was a juvenile misdemeanor
Your offense was a minor alcohol-related offense
You were convicted of Failure to Attend School
You were later acquitted by the Criminal Court of Appeals
You were pardoned
A clean criminal record can make a significant difference in your life. Three major benefits of expunging your criminal record include:
Getting or keeping a job. A criminal record will always hinder your employment prospects. Even if you are already working, new management can come in and conduct a search on all current employees.
Approval for a loan. Some loan agencies believe that a criminal record is an indication that someone is less likely to meet their financial obligations. That could mean experiencing high interest rates or flat-out denial because of your record. Without approval for a loan, it can be difficult to purchase a new car or home, as well as pay for an education.
Peace of mind. Lastly, not having a mark on your criminal record can make your worries disappear. Your rights and privileges of as citizen return, putting the criminal offense behind you once and for all.
If you were convicted of a crime and would like to pursue expunction, request a complimentary consultation with our Fort Worth criminal defense lawyer at The Clark Law Firm today.
When Are Expunctions Granted?
There are special circumstances which must be met in order to get an expunction granted. The process can be complex and difficult to navigate without experience and finesse. Trusting our firm with your case means that you have more than 35 years of combined experience in the field of criminal law on your side.
An expunction may be appropriate if:
You were acquitted during trial
The charges against you were dismissed
You completed a pre-trial intervention program
You were pardoned
Contact a Fort Worth Expunction Lawyer
If you are unsure whether or not expunction is right for your case or you have concerns about the process, we can help. We have years of experience helping individuals throughout Texas face the struggles which can occur after an arrest or conviction. Regardless of the circumstances, you can rely on our Fort Worth criminal defense attorneys to provide you with caring, personalized service.
Attorney Clark is a former prosecutor, giving him valuable experience on both sides of the courtroom. Our firm can work with you to determine if expunction is right in your situation. We are pleased to offer no-interest payment plans, accept most credit cards, and have complimentary parking available at our office.
Call us now at (817) 435-4970 to set up a complimentary case evaluation.